Services

Websites & Online

Multimedia

Marketing & Promotion

Software

Our Software

Multimedia Software

Web Design Software

Customers
Home > Our software > Products > DigitalAccess FTP
DigitalAccess FTP Website Uploader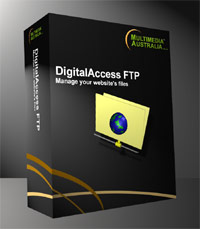 Upload files and manage your website with DigitalAccess FTP. Features include:
Perform various website file management operations including uploading, downloading, renaming and deleting files and creating folders.
Protect yourself from server disconnecting with idle timeout protection.
Quickly edit files using the BestAddress HTML Editor (if installed).
DigitalAccess FTP support's Site Projects from the BestAddress HTML Editor to make your work even easier!
Easily locate files with the Find function.
The log window provides you with an overview of the performed operations along with the date and time. The record can be saved for future reference.
Digital Access FTP is included with the BestAddress HTML Editor. You can also buy or download a free trial of DigitalAccess FTP separately. Get DigitalAccess FTP today - it's your all-in-one FTP software program!
Recommended system requirements
Microsoft® Windows® 95 or later operating system (Windows® XP, Windows® Vista, or Windows® 7 recommended)
128 MB of RAM recommended
Hard disk space required for download: 6 MB
Hard disk space required for installation: 5 MB
Internet connection
Windows® compatible pointing device
Copyright © 2001 - 2012 Multimedia Australia Pty. Ltd.
Australian Company Number 096 830 394. All rights reserved.
ABN 78 096 830 394
GPO Box 1626, Brisbane, Qld, 4001, Australia
(more contact details...)
Site map. Terms of use. Disclaimer. Privacy Statement. Refund Policy.
Multimedia Australia | Multimedia Australia Corporate
Featured Solutions: Web Design | Graphic Design | Web Hosting | Domain Name Registration | HTML Editor | Media Center